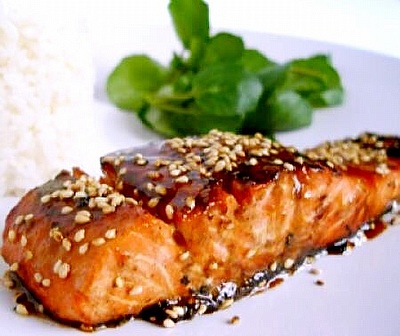 Salmon Teriyaki
Teriyaki is a cooking technique used in Japanese cuisine in which foods are broiled or grilled in a sweet soy sauce marinade.
30 mins
Easy
Mains
2 Servings
Ingredients
Serves 2

2 fillets (250 grams) salmon
1 tbsp vegetable oil
A pinch of sesame seeds
Watercress
2 tbsp Yutaka soy sauce
2 tbsp Yutaka mirin
1 tbsp sake
1 tsp sugar
316kcal per serving
(Calories are guidance only. It may differ depending on the ingredients and amount you may use.)
Directions
To make teriyaki sauce, mix soy sauce, mirin, sake and sugar. Marinate the salmon fillets in the sauce for at least 30 minutes.
Heat the oil in a frying pan. Grill the fish on medium heat while carefully turning sides until cooked.
Pour the sauce over the salmon fillets and grill further for a few minutes until the sauce thickens, giving the salmon a golden-brown coating of teriyaki.
Sprinkle a pinch of sesame seeds and serve with a bowl of rice and Yutaka Miso Soup.